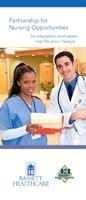 The Partnership for Opportunities Program is celebrating over a decade of success. The PNO program, a joint venture of Bassett, SUNY Delhi and Hartwick College, has graduated 148 nurses since its inception in 2001. Some 100 nurses have become RN's through the program and 48 are now bachelor prepared nurses.
The Partnership for Nursing Opportunities Program allows students to complete their associate degree in nursing through SUNY Delhi. Following completion of the first year at SUNY Delhi, the student may secure employment as a Patient Care Assistant 2. Upon completion of the second year, the student/employee will earn an Associate of Science in Nursing and will be eligible for licensure as a Registered Professional Nurse.
The Bassett - Hartwick College program is designed for Registered Professional Nurses interested in earning a Baccalaureate of Science in Nursing degree while working. RNs will work 12-hour shifts each week at Bassett Healthcare and receive two days of on-site nursing instruction by Hartwick College faculty at Bassett. Following completion of two full calendar years, the Registered Nurse will earn a BS.
Full tuition support is provided to the eligible employee/student in either program with a payback commitment following program completion. Bassett is currently seeking candidates for entry into the SUNY Delhi and Hartwick College at Bassett Medical Center.
For more information, please contact:
Patricia Davis, RN
Project Coordinator for the Partnership for Nursing Opportunities Program
(607) 547-3166
E-mail: patricia.davis@bassett.org
For more information please visit: http://www.bassett.org/medical/locations/hospitals/bassett-medical-center/nursing/nursing-education/