Businesses
---
Best Practices
---
​Get Executive Commitment
Having commitment from the highest executive level sends a clear message to management about the seriousness and business relevance of employing youth with disabilities. Also, top-down commitment will support desired employment and talent pipeline development outcomes.
---
Incorporate Employees with Disabilities Into Existing Diversity Committees
This group can help analyze assessment data and make recommendations to top management.
---
Connect with Workforce Development Boards and Organizations
Establish partnerships with employment organizations and workforce boards to create any series of programs, including business tours, job shadowing, internship programs, apprenticeships, and referrals.
---
Support and Sponsor Professional Development
The purpose of good training is to not just increase awareness and understanding about disabilities, but to also develop concrete skills that employees can use. Starting with awareness training and advancing to knowledge training and training that builds specific skills is common.
---
Host Work-Based Learning Opportunities for Young People
---
---
Offer Career Advancement Opportunities
Ensure ongoing professional development and skill building is available for employees with disabilities.
---
Remain an Active Participant in the IRT
The direct job supervisor should update IRT members about the youth's job performance, punctuality, and interactions with co-workers. Supervisors should engage IRT members for needed support.
---
Assess Progress in Disability Employment
Regularly assess where you are on the Disability Employment Maturity Curve below. Identify strategies and supports that can help you advance inclusion throughout your organization's culture and HR practices.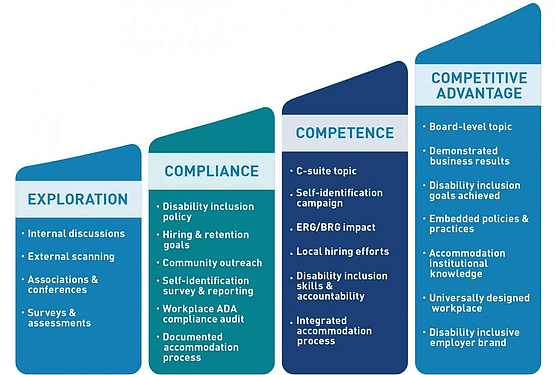 National Organization on Disability
---
Additional Resources and Information